Laverne High School
1975 Yearbook
Photographer Ray D. Rittenhouse II 1958-1980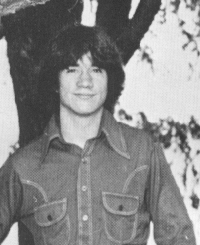 Ray also know to his friends as "Tex" attended Laverne High School his junior and senior
year after transferring to Laverne from high school in Germany. His love of photography
was expressed by the many hours he would spend in the darkroom, and always carrying a
camera with him where ever he would go. His many friends, activities, and appreciation for
nature often were the subjects of his works. He also took great interest in other art
forms including drawing, sculpting, and music. After graduating high school in 1976 he
worked as a roughneck to work his way through college attending Southwestern and Oklahoma
State University working on his petroleum engineering degree. In his life he accomplished
much with so little time to work with. Ray was killed in an airplane accident in Mexico
at the age of 21. Being an inspiration to many, and a loss to all, this is just a small
glimpse through the eyes of his perspective of the world. A small sample of work from
the photographers view point coupled with his unique sense of humor, imagination, and
view of life in Laverne, Oklahoma.

Ecclesiastes Chapter 3
A time for everything...
1- To every thing there is a season, and a time to every purpose under the heaven:
2- A time to be born, and a time to die; a time to plant, and a time to pluck up that which is planted;
3- A time to kill, and a time to heal; a time to break down, and a time to build up;
4- A time to weep, and a time to laugh; a time to mourn; and a time to dance;
5- A time to cast away stones, and a time to gather stones together; a time to embrace, and a time to refrain from embracing;
6- A time to get, and a time to lose; a time to keep, and a time to cast away;
7- A time to rend, and a time to sew; a time to keep silence, and a time to speak;
8- A time to love, a time to hate; a time of war, and a time of peace.
Click on pictures to enlarge:

To everything there is a season and a time to every purpose under the heavens.
A Time To Be Born...
A Time To Die
A Time To Destroy / A Time to Rebuild
A Time To Laugh / A Time To Weep
A Time To Kill / A Time To Heal
A Time To Keep / A Time To Castaway
A Time To Love, A Time To Hate
A Time To Speak, A Time To Remain Silent
A Time To Mourn / A Time To Dance
A Time To Embrace / A Time To Refrain From Embracing
A Time To Win...
A Time To Lose
A Time of War, A Time of Peace
1 | 2 | 3 | 4 | 5 | 6 | 7 | 8 | 9 | 10 | 11 | 12 | 13 | 14