Click on the banner to enter, automatic entry in 15 seconds.
This site is best viewed with Internet Explorer,
the new version of Netscape seems to have a lot of problems,
so I no longer suggest using Netscape of any kind for that reason.
At least 800 x 600 Resolution Recommended. Do not use enlarged fonts!

KimDara.com's Web Site is not responsible for the content at any of the external
sites that we link to and therefore are not necessarily endorsed by KimDara.com.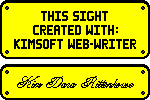 Posted 08/30/2000
---o00o--º(_)º--o00o---
May 1st, 2001 - All email functions are down on this site.
Please use this alternate email address until this issue is resolved.
Unique Visitors:
---