Click on the U.S. Flag if you are American


Looking for KimDara.com's Desktop? Click the Banner!
Autoloads in 30 Seconds.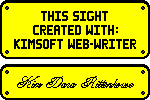 KimDara.com's Web Site is not responsible for the content of any of the external
sites that we link to and therefore are not necessarily endorsed by KimDara.com.
Republication and redissemination of the contents of
this screen or any part of this website are expressly
prohibited without prior KimDara.com written consent.
This Website is Guaranteed
Not to Misfire, Fire on Safety,
or go off Half Cocked.
---
<!p> <!div align="center"><!a href=http://www.coffeecup.com> <!img src="http://www.coffeecup.com/ccbutton1.gif" border=0 alt="HTML Editor - Flash - Web Hosting"><!br> <!font size="1" face="Verdana, Arial" ><!Home of the CoffeeCup HTML Editor><!/font><!/a><!/div> <!p> <!hr>

Email:
---
PRIOR INDEX PAGE | DESKTOP THIS WINDOW | FULL SCREEN DESKTOP | CONTROL PAGE
2004 | 2005
---
---o00o--�(_)�--o00o---